Business Improvement Guide
01 July 2012
Written by: Mark Whateley
Business Improvement
is a broad subject with many sub disciplines. It is often called Business Process Improvement but experience has taught us that in order to be successful you need a more holistic approach to change.
To be successful, you need to be clear on what your business is selling, understand your environment, know where you're going, have a good understanding of who your selling to and how you reach out to them, know what motivates your people and have systems and processes that effectively meet your customers needs and efficiently meet yours.
Having everything aligned and in balance is the key to a successful and optimised business!
"We use a blended approach to achieve this which is shown in this basic model."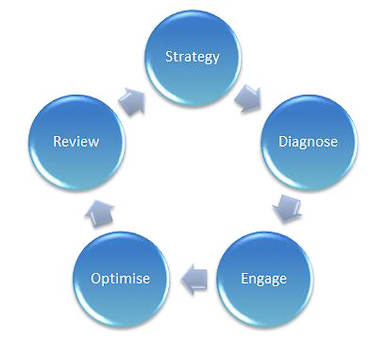 Strategy: We start with strategy which sets the direction and objectives for the project. This is a critical phase but shouldn't be overdone. Strategy should always be a positive outcome linked to some aspirational goals.
Diagnosis: The diagnosis stage is really important as this is where you generate insights to your business, your market, competitors, customer experiences, operations, etc. While much of the work revolves around analysis you need the skill to put the information in some form of context and interpret it in relation to your business.
Engagement: This is the key element missing from most change programmes. However much the company invests in talking to their people about the change it probably won't be enough. What we need to achieve is a behaviour shift and a sense of being part of the change. It is often felt that people are resistant to change but in our experience they are resistant to uncertainty rather than change. This means that if they feel in control, know what is going on and feel they are shaping the change then they will be fully engaged.
Optimise: This is the element where you bring together all the information you have pulled together so far and make the changes you need to processes, systems and people to create a better experience for the customer.
Review: This is a continuous process so you need an effective measurement strategy and review process that not only looks at performance but also records the 'lessons learnt'. The review should focus on the effectiveness of the change process, the results achieved, what went well and what could have been better. The final part of this process is planning for the next project using the things learnt from the previous one.
Better Business!