Social Media Marketing
01 June 2012
Written by: Mark Whateley
Staying connected with your customers
Social Media Marketing is pretty much esential for most modern businesses.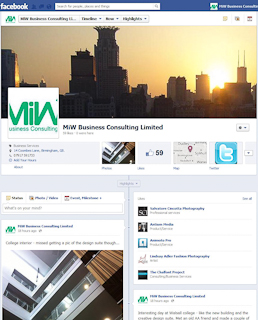 Most businesses have a website and dabble in Social Media but in order to make social media marketing really work for your business you need a

strategy

and a

plan

.
In simple terms, before you start to market your business you have to be clear about what you are selling, who is going to buy what you are selling and where and how you are going to reach them.
Every business should be able to describe its product or service succinctly. Research 'elevator pitches' to find out more about this. Think of your product or service in terms of a solution to a customers problem. If you understand a customer's problem and have a solution for it you have a sales opportunity.
Once you have thought this through and identified your target market you need to think about where they hangout online (and offline for that matter). It is no good targeting just one form of marketing or social media as you need to build connections and establish yourself as an expert in your chosen field and someone with something interesting to say.
Facebook
is about the biggest with 600 million monthly users but has never really cracked it for business in my opinion. However, setting up a business page is easy and free and if you have a brand aimed at consumers it is a good place to start. Even if you don't, it is worth spending a bit of time creating a page.
You Tube
is the second most popular search engine after Google. Many businesses have tried video as a form of marketing to promote their businesses, often very successfully. However, a word of caution! With video, quality is everything so if you're trying to promote
your business you need to get the film made properly, by a professional. Viral marketing is a great way to get people talking about your company and humour works well but be careful about what it is saying about your brand.
Google+
has gained popularity in some quarters, especially where there is a lot of collaboration such as the creative professions. Photography has a particularly strong community on there.
LinkedIn
is a bit like Facebook for business people, although that is probably an over simplification. Professional people use it to establish connections with other people and you can join groups and search for specific skills and jobs. There are paid-for versions but I have only ever used the free version. My LinkedIn notifications tells me if someone has downloaded my CV so I know if someone is checking me out. There are similar sites to LinkedIn like Ecademy

where you can publish a blog and network with other users

.
Twitter
is a must for some professions if you can get past all the celebs bitching about each other. In order to build up a following you need to start by following other people and companies that interest you. I'm interested in photography, art & design, fashion, business, technology, current affairs, etc. and by following other people with similar interests and tweeting about these subjects I have been able to build a small following quite quickly.
Twitter can very quickly become part of your life and deliver up to date news as it happens and lots of interesting articles.
The
Blog
may be going out of fashion slightly these days but if you want to establish yourself as an expert or you just like expressing your opinion in writing for others to read then a blog is still a very worthwhile activity. There are a lot of options to set up a blog such as Wordpress but you can also use applications like Blogger and Posterous that do a lot of the work for you.
There are a number of free advertising sites like
Freeindex
and
Yell
that give you the option to create a business profile. The free accounts can be a bit limiting in some cases but they are usually very good at SEO (search engine optimisation) and can get you high in the search engine rankings.
However you decide to use social media there are some golden rules you should follow
Don't mix business and pleasure - if you have a personal Facebook account don't use it for business and don't 'friend' clients. Seeing pictures of you on a night out isn't going to help you win that big order

Profile pictures - most people are visual and your profile picture is going to set their first impression of you. It always amazes me how some people think it is ok to promote their business with a picture that is badly taken and shows them half naked. I guess it depends on your business but think about it for a minute - what does your profile picture say about you?

Maintain Quality - make sure your posts reflect your brand identity and standards. Think hard about your readers (or ideal readers) and write for them

Post regularly - little and often is better than posting the odd long essay. If you blog, once a week is about right. Facebook and Twitter should be updated every day

Seek out people you want to do business with and strike up a conversation with them - don't be a stalker and don't expect a blatant sales pitch to ever work

If you don't have anything interesting to say, look around at what others are saying and re post or comment on it - don't be a Troll (someone who posts derogatory comments about people and products)

Keep your information up to date - readers like it and so do search engines. There's nothing worse than going on a site and seeing a headline for the Christmas Sale or latest promotion that is a couple of years out of date

Give people credit for ideas, pictures and articles you decide to repost or mention

Link everything back to your own website